Avant de vous donner les clés pour être plus attirant, est-ce que vous savez la différence entre une personne séduisante et une personne charmante ?
« Une belle personne, on la remarque. Mais une personne charmante vous remarque. »

Adlai Stevenson
Nous focalisons trop souvent notre attention sur le physique pour évaluer notre niveau d'attractivité, du coup la plupart des gens vont à la salle de sport parce qu'ils veulent paraître plus séduisants.
Mais à quoi bon aller se tuer au sport si on ne comprend pas les éléments clés qui font de vous une personne vraiment charmante ?
Voici 6 choses qui permettent de développer votre attractivité.
Observez le nombre de fois qu'on franchit votre zone d'intimité
Selon Vanessa Van Edwards, chercheuse en chef à The Science of People, les personnes qui nous trouvent attirants sont susceptibles de franchir notre zone d'intimité.
Votre zone d'intimité se trouve à 30 cm de vous.
Si vous remarquez qu'une personne aime rester à moins de 30 cm de vous, il y a de fortes chances qu'elle soit attirée par vous, ou se sent bien à vos côtés.
Essayez d'analyser votre attitude, à chaque fois que vous interagissez avec une personne que vous n'aimez pas, vous voulez rester aussi loin que possible d'elle. En fait, vous préféreriez ne pas parler du tout avec elle, car même leur énergie vous met mal à l'aise.
Et avec des personnes que vous trouvez attirantes. Comme vous aimez leur façon de parler, l'odeur de leur parfum, leur caractère, etc., vous voulez vous rapprocher d'elles parce que leur énergie vous attire. C'est presque animal.
Les gens sont heureux autour de vous
« Le désir est à la fois imitatif et compétitif. » Ce qui signifie que nous aimons ce que les autres aiment, et que nous sommes motivés pour prendre aux autres ce qu'ils trouvent précieux.
Un homme est plus attirant pour les femmes lorsqu'il est fréquemment entouré de belles femmes. Et les gens vous trouvent plus attirant lorsque les autres sont toujours heureux autour de vous.
Prenez les humoristes par exemple. Il est vraiment difficile de ne pas les aimer. Pourquoi ?
Parce qu'ils donnent de la joie aux gens. Et lorsque nous voyons ceux qui peuvent nous faire rire, nous souhaitons être autour !
Donc, si vous avez une personnalité qui rend les gens heureux autour de vous, il y a de fortes chances qu'il y ait beaucoup de gens qui souhaitent être plus souvent à vos côtés.
On est souvent tactile avec vous
Votre réponse à cette question en dit long sur votre personnalité :
À quel moment vous sentez-vous généralement à l'aise pour toucher ou laisser un quelqu'un vous toucher ?
Bien sûr, la réponse à cette question varie selon les personnes. Mais généralement quand vous avez un lien avec quelqu'un.
Lorsqu'une personne vous trouve attirant, elle aura très probablement envie de vous toucher. C'est comme ça que les humains crée des liens. C'est un réflexe animal. On fait la bise aux gens qu'on aime, on serre la main de nos collègues et on dit bonjour de loin au facteur.
Comme l'ont montré des études sur le comportement humain, lorsqu'on touche une personne qui nous plaît, notre cerveau libère de l'ocytocine et cette hormone nous fait du bien.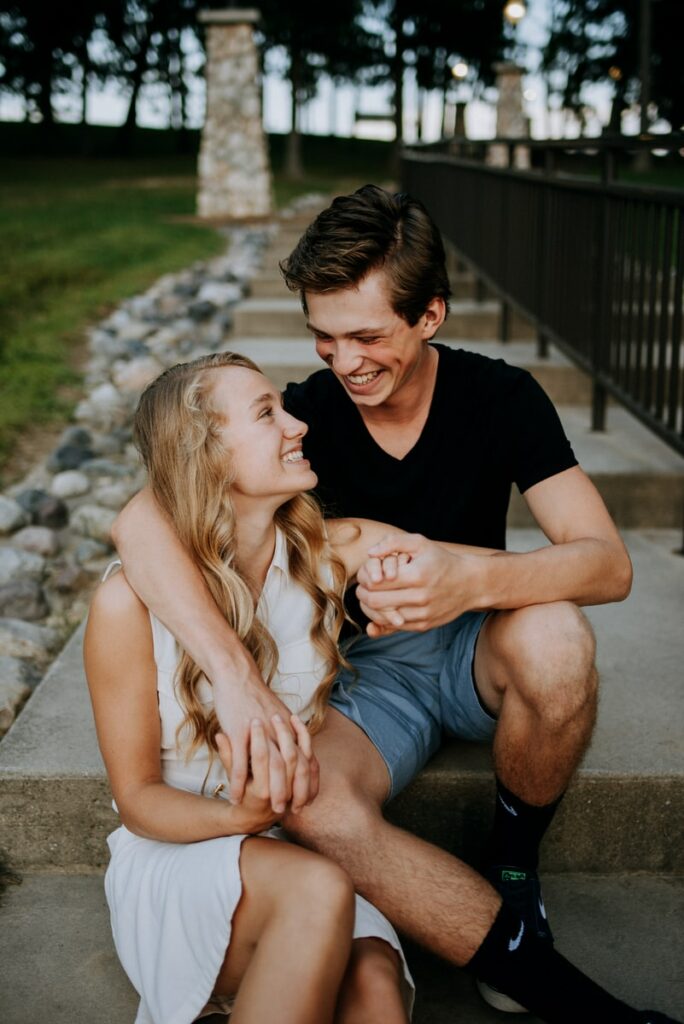 On vous regarde dans les yeux
Un contact visuel mutuel peut être synonyme de respect ou d'admiration. Et si vous y prêtez attention, vous pouvez savoir à quoi les personnes pensent juste en les regardant dans les yeux.
Nous aimons regarder ceux que nous aimons, nous avons tendance à regarder les choses que nous aimons. C'est pourquoi quand quelqu'un vous trouve attirant, vous croiserez fréquemment son regard dans une pièce même si celle-ci est bondé.
Deuxièmement, lorsque nous trouvons quelqu'un de séduisant, notre cerveau libère de l'ocytocine lorsque nous le regardons. C'est ce qui fait aussi que notre cœur bat plus vite et que nos pupilles se dilatent de manière incontrôlée.
Votre énergie est communicative
Le type d'énergie que vous dégagez est l'un des facteurs les plus déterminants de votre degré d'attirance.
Même si vous n'êtes pas très beau, mais que vous souvent heureux et enjoué, les gens verront dans plus votre énergie positive que votre apparence.
Comme l'explique Vanessa Van Edwards, les gens regardent votre niveau d'énergie pour décider si vous êtes intéressant.
Les personnes avec une bonne énergie, une bonne vibe, sont attachantes. Elles vous donnent l'impression d'être entendu lorsque vous discutez avec elles. Elles vous prêtent attention et leur enthousiasme déteint sur vous.
Pour être plus attirant, intéressez-vous aux autres
L'un des principaux obstacles à nos relations avec les autres est notre tendance à nous replier rapidement sur nous-mêmes et à parler que de nous.
Aujourd'hui plus personne s'écoute.
Nous pensons aux choses que nous pouvons faire pour impressionner. Certains hommes vont jusqu'à apprendre par cœur des phrases de drague.
Mais toutes ces façons de gérer les interactions sociales ont un défaut : elles mettent l'accent sur VOUS.
Les personnes les plus charmantes vont dans la direction opposée, elles considèrent les autres comme « un pays inconnu » qu'elles vont explorer. Et cet acte consistant à mettre l'accent sur l'autre agit comme de la magie sur les autres. Pourquoi ?
Tout le monde veut parler de soi. Mais seuls quelques-uns sont capables écouter.
Par conséquent, si vous faites partie des rares personnes qui ont suffisamment de maîtrise de soi pour aller vers l'extérieur et laisser les autres briller, vous êtes unique et donc attirant.
Dernier mot
Ne vous efforcez pas seulement d'être beau, mais aspirez à être une personne charmante. Lorsque vous êtes charmant, les autres personnes s'apprécient davantage lorsqu'elles interagissent avec vous. C'est puissant.
La beauté n'a qu'une portée limitée. En effet, il vous permettra d'attirer l'attention. Mais si vous voulez gagner des cœurs, vous devez apprendre l'art de faire en sorte que les autres se sentent acceptés et en sécurité autour de vous.
Pour devenir encore plus attirant n'hésitez pas à contacter l'un de nos thérapeutes 🙂